Bob Kelly is an American reporter who has won several awards and is presently employed for FOX 29. Bob started working as a reporter for "good day Philadelphia" at FOX 29 News in October 2014, shortly after the station was launched.
Family Members Bob Kelly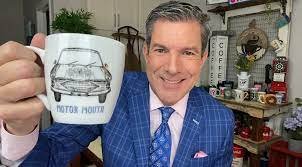 The multiple-award winning traffic reporter's parents brought him into the world in the neighbourhood of Northern Philadelphia. Regrettably, Kelly has not provided any information on his family, including his mother, father, and siblings. However, we are making an effort to get the information, and whenever we do, we will update the website accordingly.
The Wife and Children of Bob Kelly
Kelly was once married to Colleen, and he is now the elated father of two children from their union. They have officially ended their marriage but are still living apart while going through the divorce procedure. He asserts that there is no drama since he has been concentrating his efforts on raising his two girls.
In addition, he made a remark on how humorous it is that people focus on the ring when his audience members saw that his wedding band was absent from the ring finger of his right hand. However, it is unknown whether Bob has entered into a second marriage.
Education of Bob Kelly
Kelly is a native Philadelphian who attended North Catholic High School and Temple University and earned degrees from both of those institutions.
The Career of Bob Kelly
At the moment, Kelly is working as a traffic reporter for the show "Good Day Philadelphia" on FOX 29. Since he started working for the television network in October 2014, he has provided reporting for several regularly scheduled morning programmes, such as "Kelly's Classroom," "Breakfast with Bob," and "Town Takeover." Co-hosting the Philadelphia St. Patrick's Day Parade for the last 15 years, he is a big part of the celebration.
Before joining FOX 29, Kelly spent the previous 13 years at CBS 3 in Philadelphia, where she was employed as a traffic anchor. Additionally, he has the distinction of being the very first traffic reporter in the Philadelphia area to ever do his job while positioned in front of a green screen. Because he employs catchphrases like "Jammo," "Two Jelly Donut Delay," and "the Conshy curve," he provides a one-of-a-kind, lively, and amusing performance for his audience. It is now common practise to refer to him as "The Dean of Traffic."
When Kelly first started out in the entertainment industry, he was a radio disc jockey. There, he worked with Jerry Blavat, also known as The Geator. Up to the time when traffic became a major story, he worked for a number of different media sources, including some of the most well-known radio stations in Philadelphia. He started his reporting career at KYW News Radio's traffic on the 2s programme, where he was a traffic reporter.
At FOX 29, he works with a number of talented people, including meteorologist Kathy Orr and news anchor Mike Jerrick, who has won an Emmy.
Bob Kelly: FOX29
Bob began his professional life by working as a radio disc jockey with Jerry Blavat, also known as The Geator. Bob is presently employed as a reporter for Fox 29 in the United States. In October of 2014, he started working at the station as a Traffic Reporter for the Good Day Philadelphia programme.
Additionally, Kelly served as a co-host for the St. Patrick's Day Parade in Philadelphia for more than 15 years. Bob served as a Traffic Anchor for CBS 3 in Philadelphia for thirteen years before to beginning his career at Fox 29. When Kelly began delivering his traffic reports in Philadelphia, he was the first anchor to do it in front of a green screen.
Bob has provided entertainment for sports fans on the Jumbotron during games including the Eagles, Flyers, and Sixers. Additionally, before Eagles games, Bob has hosted his famous feature "Tailgate Takeover." He worked his way up and down the dial at some of Philadelphia's most popular radio stations until traffic became news, at which point he joined KYW News Radio as the host of the Traffic on the 2s programme.
Bob Kelly, who works as a traffic person for CBS3 TV and Philadelphia Radio, went to the airways on KYW-TV/CBS3 to provide a genuine insider's account of the vehicle that had to be plucked out of the Schuylkill River at Valley Forge National Historical Park. The jeep was submerged in the water at the time.
Also Read: