Gaurav Taneja is one of the most popular social media influencers in India. He owns 2 YouTube channel named Fit Muscle TV and Flying Beast.
Gaurav Taneja is also famous on Instagram with almost 800k followers as of April 2020 and has 57k followers on twitter. He is very active on social media platforms. Now he is counted in India's best free bodybuilder coach on Youtube.
[table id=53 /]
[lwptoc]
Gaurav Taneja Wiki
Gaurav Taneja was born on 12 July 1986. He was born in Kanpur Uttar Pradesh India. Gaurav was born in a middle-class family. He studied in a local English medium school in Kanpur and then joined IIT Kharagpur to complete his civil engineering degree.
He successfully completed his degree in the year 2008. In his college time, he started doing bodybuilding. Gaurav Taneja also works as a professional bodybuilder. He started competing in bodybuilding competitions.
Gaurav also works as a pilot at AirAsia. Before he was working at Indigo Airlines as a pilot. He is overall champion DBBA (Dehli Body Building Association) of 2013.
Gaurav Taneja is also a certified nutritionist with 13 years of experience in this field. He is married to Ritu Rathee Taneja and has a daughter named Rasbhari Taneja. He also collaborates with My fitness. He was one of the best bodybuilders in Delhi for some time.
Gaurav Taneja Youtube Channels
Flying beast is a vlogging channel on this channel he blogs his personal life and sometimes. He also uploads travel vlogs. Gaurav Taneja uploads vlog almost every day on this channel.
Flying Beast youtube channel has over 2.5 million subscribers as of April 2020. He loves to share his daily life on this channel. Gaurav started making videos on Fit Muscle Tv and has more subscribers on this channel.
Fit Muscle Tv channel is another fitness Youtube channel. On this channel, you will see all things related to fitness like weight gain, weight loss, diets, the science behind bodybuilding, supplementation, training, etc.
If you are new in fitness or bodybuilding I highly recommend visiting the Fit Muscle Tv YouTube channel. Fit Muscle Tv channel has over 1.4 million subscribers as of April 2020.
Gaurav Taneja Family
The name of Gaurav Taneja's father is Yogendra Kumar Taneja. His father was working as a post officer now he is retired. Name of Gaurav Taneja's mother is Bharti Taneja who was working as a teacher now she is retired. Gaurav Taneja also has a sister name Swati Taneja Bhatia who is married. Gaurav Taneja is married Ritu Rathi Taneja and also has a daughter named Kiara Taneja.
Gaurav Taneja Net Worth
Gaurav Taneja has multiple sources of income. He mostly earns by his job as a pilot. His salary is 4,00,000 Indian rupees which are approximately 5300 dollars.
He earns approx 2000 dollars by his 2 youtube channels which are equal to 1,60,000 Indian rupees. Please note these numbers are not exactly accurate. His net worth is estimated to be around 130k dollars.
Gaurav Taneja Physical Appearance
Gaurav Taneja is a gym freak. He is also very careful about his diet. Gaurav Taneja is a very cool looking guy with big biceps and chest.
His height is approx 5 feet 7 inch and his weight is around 90 To 95 kg. His hairs are black in color.
His eyes are also black in color. His body is full of muscle mass. He is the inspiration for many upcoming bodybuilders and upcoming models. He tries to do a workout every day.
Gaurav Taneja Wife
Gaurav Taneja is currently married to Ritu Rathee Taneja and has a daughter named Rasbhari Taneja. He married Ritu Rathee Taneja on 5th February 2015.
Ritu Rathee Taneja is also a pilot. She works at the indigo airlines. Gaurav Taneja has no girlfriend currently. As he is married to Ritu Rathee Taneja.
More about Gaurav Taneja
Gaurav Taneja's favorite sports cricket. He absolutely loves to play cricket. His favorite actresses are Deepika Padukone and Madhuri Dixit whereas his favorite colors are black and blue.
Gaurav loves to watch Taarak Mehta Ka Ooltah Chashmah and the Kapil Sharma show. His favorite cars are BMW m series and Toyota Fortuner.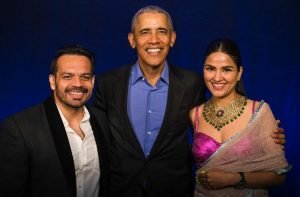 His favorite actors are Tom Cruise and Shahrukh Khan. His favorite movies are 3 Idiots and Sholay. His favorite travel destination is Switzerland. He loves to eat jalebi, egg omelet, lassi, and meat.
Gaurav Taneja also loves traveling and bodybuilding. He is addicted to tea and drinks tea every day. He carries tea bags everywhere so he can drink tea at any time.
His favorite bodybuilder is Arnold Schwarzenegger. Arnold Schwarzenegger was the inspiration of Gaurav Taneja to start bodybuilding as a career.
Unknown facts and Trivia
Gaurav has collaborated with many YouTube channels like MJ5, Saiman Says, Slay Point, Beerbiceps, etc.
He and his wife also meet President Barack Obama.
Gaurav Taneja and his daughter are famous for a dialogue called "Fan kidar hai".
He has won many bodybuilding competitions.
Gaurav has many friends from youtube community like Buwan Bam, Anisha Dixit (Rikshawali), Amit Badhana, etc.
He wants to buy a bike called Hyabusa but his wife not allowing him to buy.
Both husband and wife call each other "mote".
He has also meet big celebrities like Ranveer Singh, Salman Khan, Amir Khan, Kapil Sharma, Nora Fatehi, etc.
Gaurav was invited to Youtube Fanfest in 2018 and as well as 2019 and also in Creators Camp hosted by Youtube.
Gaurav Taneja has a friendship with India's biggest fitness icons like Sahil Khan, Sangram Chougule, Jitin Marke, etc. He also visited mo vlog house.