Alvira Khan Agnihotri is an Indian popular film director. But, she is more famous for being the sister of the Bhai of Bollywood, Salman Khan. Alvira Khan is multi-talented along with being a skilled film director she is also a fashion designer by profession. Alvira mainly directs movies and helps in movies of his brother Salman Khan. If you want to know more about Alvira Khan Agnihotri then stay tuned till the end!
[table id=14 /]
[lwptoc]
Alvira Khan Agnihotri wiki
Alvira Khan was born on December 13, 1969, in Bombay, Maharashtra, India. She was raised in Mumbai and all her schooling and high school were done in Mumbai itself. She was born in a business-class khan family with a lot of love and care. Salim Abdul Rashid Khan is her father who was a very famous producer, director, actor, as well as screenwriter. Salma Khan is the name of her mother who is the wife of Salim Khan.
Salman Khan, Arbaaz Khan, and Sohail Khan are siblings of Alvira. Her mother's name was Sushila Charak before marriage but changed to Salma after marriage with Salim Khan. Due to her father, Salim Khan all of his children got a boost in the Bollywood Industry. But, Alvira's interest was not in acting, but in art. She was a fashion designer by profession and she has a degree in fashion designing.
Alvira Khan: Career
As said earlier, Alvira is a skilled film producer as well as a talented fashion designer. She has designed outfits for many popular movies and celebrities. But, mainly she designs outfits for Salman's movies and those outfits really look outstanding. Along with this, she also has produced many popular blockbuster films. In the year 2011, she was the co-producer of the film BodyGuard.  If you don't know Alvira khan is married to Atul Agnihotri who is also an Indian film producer.
After her successfully production of the film BodyGuard, she along with her hubby decided to launch another movie. Sultan was the film she produced along with her husband after the successful collaboration with Bodyguard. She was also the costume designer for this film, Sultan. And for her exceptional work, she also received the award for the Best Costume Design of 2016. This award was shared with Ashley Rebello was is also a very skilled costume designer! Alvira has also produced Salman Khan's blockbuster movie of the year 2019, Bharat.
Atul Agnihotri- Husband of Alvira Khan
Alvira Khan is married to Atul Agnihotri was is also a famous director, actor, and film producer. From the year 1983 to 2020 Atul has produced over 40 movies. Chachi 420, Hello, Bharat, Krantiveer, Naaraz are some of his creations as a producer. Atul was born on 8 July 1969 in a Punjabi family. His father was Rohit Agnihotri was also a film producer and entrepreneur. But, Atul lost his father at a very young age.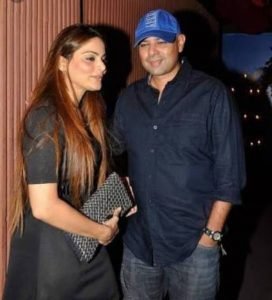 Alvira and Atul have two children, a son, and a daughter. Ayaan Agnihotri is the name of their son and their daughter is  Alizeh Agnihotri.
Read more about – Ayaan Agnihotri (Nephew of Salman Khan!)
Unknown facts and trivia
Alvira Khan's favorite color is black and she is an animal lover.
She loves designing and she is a fashion designer by profession.
She is the sister of Salman, Arbaaz, and Sohail Khan! Every Raksha Bandhan Alvira ties rakhi to her brother without fail.
Atul Agnihotri is the husband of Alvira who also is a popular director and producer!
Also read- Alizeh Agnihotri (Gorgeous daughter of Alvira Khan!)
 

View this post on Instagram