Sunny Waghchaure is an Indian business tycoon and entrepreneur. Sunny is very popular among youngsters due to his lavish and rich lifestyle. But, actually, he is famous for being known as 'The Golden Man of Pune'. Sunny Waghchoure is also a social media influencer with a huge number of followers!
[table id=83 /]
[lwptoc]
Sunny Waghchaure Wikipedia
Sunny Waghchaure was born and brought up in Pimpri Chinchwad located in Pune. From childhood itself, he was very fond of gold and living a rich lifestyle. His partner in crime is Sanjay Gurjar who also loves to wear Golden things. Sunny and Sanjay Gurjar are the real-life Gunday!
Sunny Waghcahure was born on 2 January in the year 1990 and he celebrates his birthday every year on 2nd January. As of now, Sunny Waghcahure is 30 years old but he doesn't look he is in his 30's due to his fitness and strict diet!
As said earlier Sunny likes to use Golden things and undoubtedly he is the real Golden Man of Pune. He owns a gold-wrapped Audi Q7, Golden phone Vertu and numerous Golden chains and bracelets. Along with this, he also has gold plated shoes, sunglasses, clothes, as well as Golden chain with his nickname 'Nana'.
Sunny also has a Golden Mercedes-Benz and blue Range-Rover. Wherever he goes, he is accompanied by a bunch of bodyguards dressed completely black. The Golden Guys are the name of their group which includes Nana and Sanjay Gurjar. He has the latest iPhone collection embraced with gold. He also has a Golden belt with an H symbol. Sunny Waghchoure is a great follower of Lord Shiva.
Sunny Waghchaure Business
He has great connections in the Bollywood industry and is known by many popular superstars. He has a very close relationship with the Bollywood superstar Vivek Oberoi. Sunny Waghchoure earns his money from films and he is a film financer. Along with this, he is also known by many famous celebrities such as Nawazuddin Siddiqui, Anil Kapoor, Ritiesh Deshmukh, Govinda, and Guru Randhawa.
Sunny Waghchoure came into limelight when they were seated as an audience in The Kapil Sharma Show. Because of their looks and gold, they got a lot of attention. Even Kapil Sharma called them on stage and appreciate them. The Golden Guys Sunny and Sanjay also visited the dance show Superdancer season 2 where they met with Shilpa Shetty.
Sunny also owns a construction company named Karm Enterprises in partnership with Vivek Oberoi. Nana and Sanjay Gurjar have their own NGO named The Golden Guys NGO which is founded to help the needy. Nana completed his studies from Pimpri Chinchwad itself from his own College.
Sunny likes to attend parties at different pubs and very weekend he is seen chilling at various five-star pubs in Pune. The mobile number of Sunny Waghchoure is currently not known but will be updated as soon as it is known.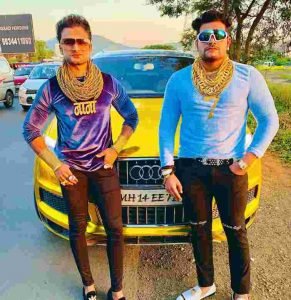 View this post on Instagram

 
Sunny Waghchaure girlfriend
Sunny is a chick magnet and he is seen with many girls at parties. But, recently he has been posting photos of his girlfriend on Instagram. Preeti Soni is the name of his girlfriend who is gorgeous and stunning.
Sunny Waghcaure is unmarried and it doesn't look like he will marry any time soon. She accompanies Sunny in every party and event! Sneha Garud is also seen with Sunny Waghchoure in various openings and events in Pune.
You might like– Aarya Ambedkar Marathi Actress (Girlfriend!!)
Car Collection of Sunny
Sunny has a lot of cars of big brands and some of his cars are Mercedes GLS, Jaguar XJ, Golden Audi Q7, Mercedes E-class, Land Lover Range Rover Vogue, BMW X4, Jaguar XF are some of his cars. Even he has some golden wrapped cars which he exclusively uses for parties and important events.
Unknown facts about Nana
Sunny Waghchaure is also known as Nana which is his nickname. Sunny is very fond of gold and wearing Golden things.
Preeti Soni is the name of Sunny's girlfriend! He is a party animal and is seen partying in various clubs every weekend.
Sunny is a business tycoon and film financer and has a close relationship with many Bollywood celebrities.
He owns a construction company with Vivek Oberoi named Karm Enterprises!
He has appeared in The Kapil Sharma Show and Superdancer 2.
Nawaz, Anil Kapoor, Ritiesh Deshmukh, Guru Randhawa, and Govinda are some of the celebrities who know him pretty well!
Sunny Waghcahure and Sanjay Gurjar are invited as a guest at several important occasions and events!
Vivek Oberoi and Ritiesh are close friends of Sunny and he hangs with them quite often!
Sunny Waghcahure has been spotted drinking alcohol at many parties and he also is seen smoking hookah.
He was born on 2 January in the year 1990 and his birthday is on 2 January. Sunny has a tattoo of Nana written on his arm and also he wears a chain named Nana. He likes to wear around 3-5 kgs of gold daily!
He is a big fan of cars and his list of cars collection is quite costly and long. Mercedes GLS, Jaguar XJ, Golden Audi Q7, Mercedes E-class, Land Lover Range Rover Vogue, BMW X4, Jaguar XF are some of his cars.
Sunny has won the Perfect Achievers Award in the year 2017 at Andheri located in Mumbai. He also has an NGO named Golden Guys NGO.
Sunny Waghcahure is a devotee of Lord Ganesha and every year he visits the Labagh Cha Raja in Mumbai.
Jayanta Bhai ki Luv Story and Zilla Ghaziabad are some of the films of the year 2013 where he financed and also had some cameo appearances.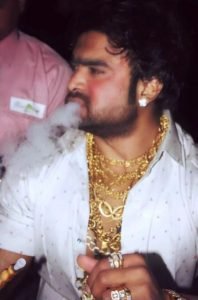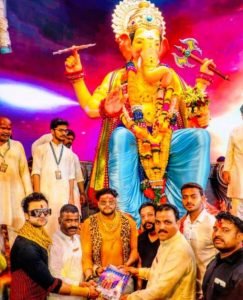 So, this was all about the hotshot Sunny and his lavish rich lifestyle! If you did like our content don't forget to share it with your friends and family!
 

View this post on Instagram